As federal HR reporting continues to become more complex and time consuming, the aggregation of data form multiple sources becomes more cumbersome and time consuming. HR specialists often spend significant time on transactional activities such as reporting, taking time away from more strategic initiatives.
FedLens™ automates reporting across common human resources (HR) reporting areas, helping HR leaders become more proactive in understanding challenges that your agency's workforce may face in the future. This automation of reporting helps transform your organization to become more data-driven in its decision making.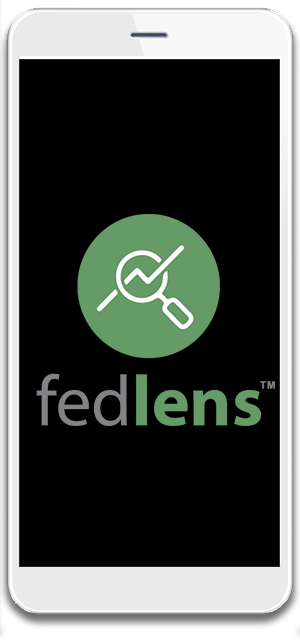 Report Automation
Automates federal HR reporting to save time and improve accuracy
Predictive Analysis
Tracks hiring, attrition, and other workforce models to understand future workforce needs.
Workforce Planning Support
Supports agency workforce planning initiatives with insight on identifying and closing skills gaps, improving employee retention, and meeting agency-specific goals aligned to strategic workforce objectives.
Trend Analysis
Provides agency leadership with targeted trend analyses of workforce and FEVS data.
Federal Compliance
Provides your agency's leaders with comprehensive bi-weekly reports of workforce data essential for compliance with federal regulations/directives and strategic workforce planning.
Secure hosting
Hosted on a secure, FedRamp-approved environment, with permissions-based control for users, to ensure your HR data is protected.
Personal, Agency-Specific Reports
FedLens™ provides agency leaders with intuitive reports and workforce insight into employee retention, performance, and more.
Want to Learn More About the Power of GovStrive?
GovStrive provides a superior and personalized experience for our clients. By customizing tested and effective methodologies and tools, our teams of consultants, HR Specialists and advisors are able to address the root cause of organizational challenges to achieve impactful results.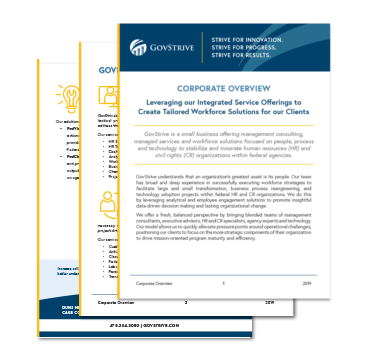 Check out our Corporate Overview
We're here when you need someone to tackle complex federal workforce and HR problems through collaboration, innovation, and experience.