Federal contracting
made easy.
GovStrive makes it easy to purchase our services and technology solutions.
We're proud to provide employment opportunities and professional development to the HUBZone residents of Dublin, Georgia. We believe it's our responsibility is to be good corporate citizens in the communities where we live, work, and serve.
Contract With Us
DUNS Number: 078750837
CAGE Code: 6V5E1
SAM: REGISTERED
GSA MAS Contract No. GS02F013GA
GSA OASIS Contract No. 47QRAD20D1173
USDA Forest Service (FS) BPA Contract No. 12318721A0008
USDA Office of Civil Rights BPA Contract No. 12318720A0016
USDA Agricultural Research Service (ARS) BPA Contract No. 1232SB18A0005
National Oceanic and Atmospheric Administration (NOAA) BPA Contract No. 1305M418ANAAA0005

511210 – Software Publishers
518210 – Data Processing, Hosting, and Related Services
541330 – Engineering Services
541511 – Custom Computer Programming Services
541512 – Computer Systems Design Services
541513 – Computer Facilities Management Services
541519 – Other Computer Related Services
541611 – Administrative Management and General Management Consulting Services
541612 – Human Resources Consulting Services
541613 – Marketing Consulting Services
541614 – Process, Physical Distribution, and Logistics Consulting Services
541618 – Other Management Consulting Services
541910 – Marketing Research and Public Opinion Polling
541930 – Translation and Interpretation Services
541990 – All Other Professional, Scientific, and Technical Services
561110 – Office Administrative Services
561422 – Telemarketing Bureaus and Other Contact Centers
561499 – All Other Business Support Services
561611 – Investigation Services
611430 – Professional and Management Development Training
624190 – Other Individual and Family Services
923110 – Administration of Education Programs
624310 – Vocational Rehabilitation Services
541219 – Other Accounting Services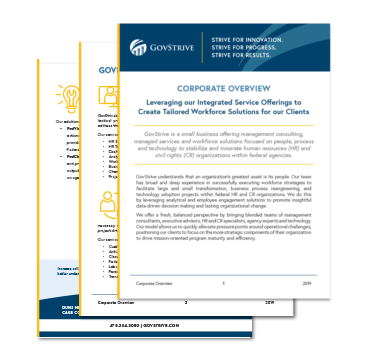 Check out our Capabilities Statement
We're here when you need someone to tackle complex federal workforce and HR problems through collaboration, innovation, and experience.