Thank You For Signing Up!
Congratulations!
You are now a part of the GovStrive collective coalition. Get ready to receive the latest GovStrive updates, perspectives on Federal HR, and workforce news insights and opinions straight to your inbox!
Discover even more GovStrive Resources and connect with us
GovStrive Talent Connector:
Keep up-to-date on all of GovStrive's latest job openings, plus tips and articles on job hunting, employment trends and navigating your career.
Contracting Made Easy:
We're proud to provide employment opportunities and professional development to the HUBZone residents of Dublin, Georgia.
Learn More
Download one of our free guides below for advice and insight on federal HR and CR, as well as information on GovStrive solutions.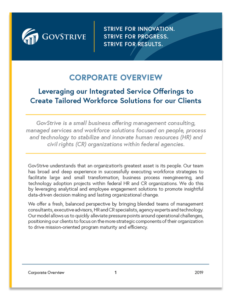 GovStrive Corporate Overview
An overview of GovStrive's Management Consulting, Managed Services and Workforce Solutions offerings and capabilities.
Anti-Harassment White Paper
Insight into establishing a successful anti-harassment program for your federal agency.
GovStrive 2020 Federal Human Capital Trends White Paper
Numerious changes and challenges require an open-minded, visionary approach in order to balance the constant tug-of-war between government constraints and regulations with modern workforce demands and evolutions.
Want to Learn More About the Power of GovStrive?
GovStrive provides a superior and personalized experience for our clients. By customizing tested and effective methodologies and tools, our teams of consultants, HR Specialists and advisors are able to address the root cause of organizational challenges to achieve impactful results.
Check out our Corporate Overview
We're here when you need someone to tackle complex federal workforce and HR problems through collaboration, innovation, and experience.